We adapted this fine summer pheasant dish, which we call Raspberry Rooster, from the entry titled "Spinach Salad with Grilled Chicken, Mango, and Raspberries" as found on Epicurious.com. Beyond the obvious (replacing the chicken with pheasant), we substituted a fresh raspberry sauce for the raspberry vinegar (see the section at the bottom of this page for some substitution suggestions), which made the dressing and marinade a bit more substantial. We also made enough of that sauce to dress up dessert. To make the dish a little more savory, we sautéed the mango slices in butter and fresh ginger root.

Dressing and Marinade
We doubled the ingredients of the original recipe to accommodate the preparation of four pheasants. The dressing/marinade calls for:
1/2 cup of your raspberry sauce (see below). Be sure to have extra for dessert!
2 tablespoons of balsamic vinegar
2 tablespoons of soy sauce
2 teaspoons of Dijon mustard
1 tablespoon of fresh ginger root (peeled, then finely grated)
2 garlic cloves, mashed through a garlic press
1/2 teaspoons of salt
1/2 teaspoon of chili powder
1/2 teaspoon of freshly ground pepper, or to taste
2/3 cup of extra-virgin olive oil
Whisk together the ingredients above and use half of it for the marinade, and the other half for the salad dressing you'll use as you serve. This can be made, and kept refrigerated, a day or two ahead of time.

Main Entrée Preparation
On to the main dish. For a sense how you might approach the timing of these steps, run down the strategy section to the right. The rest of the ingredients include:
4 boneless pheasants
(see our online tutorial, How To Bone A Game Bird, for some pointers)
1 pound of fresh spinach – washed and picked over to remove unwanted pieces and stems
(if you have it available, baby spinach is a nice touch)
1 firm but ripe mango, peeled and cut into 1/4-inch slices
(if you want to know more about mangos, here is a good resource)
4 plum tomatoes sliced in 1/4-inch slices
2/3 cup of fresh whole raspberries, washed and picked over
2 scallions, finely chopped
1/2 cup of toasted walnuts, coarsely chopped
Coat the pheasant pieces with the marinade and refrigerate, in a glass container, for 3-6 hours. Marinades contain acid in the form of vinegar, wine, and/or citrus, which tenderize the meat. If you have older roosters (second year), marinating overnight will work fine, but for younger or pen-raised birds that length of time may tenderize too much giving the meat an unwanted soft texture.

To add another layer of savory flavor, we lightly pan fried the mango slices in a teaspoon of butter with a 1/4-teaspoon of finely grated fresh ginger. Simply brown on one side, flip once and brown the other side.

Toast the walnuts on a baking sheet in a 325F oven for 5 to 10 minutes, keeping an eye on them so they don't burn. Once they're cool, coarsely chop them into 1/2-inch size pieces.

Grill the marinated pheasant meat until it's just cooked. Grilling time can take as little as just 4 minutes per side. A good hot grill will stripe the meat and carmelize the marinade for a more complex taste and texture. As you work, check the inside of a medium-size piece early to be sure you don't overcook!

To serve:
Toss the spinach, scallions, and toasted walnuts with enough dressing to coat. Place a serving on each plate and arrange the remaining ingredients for presentation. Drizzle the salad with a touch more dressing and put the rest, in a serving container, on the table.


We also served a simple light potato salad on the side.

Potato Salad
2 lbs small new yellow potatoes cut lengthwise in quarters

Dressing:
1 heaping tablespoon of Dijon mustard
1 teaspoon of white wine vinegar
1/4 cup of olive oil
1 dash cinnamon
salt & pepper to taste
Garnish:
chopped parsley
4 to 5 slices of maple-cured bacon cooked until crispy and then chopped fine
4 to 5 1/4-inch onion slices halved and cooked in the bacon pan until brown
Boil potatoes gently until just tender (medium-high heat and just rolling to keep the potatoes intact). Drain, rinse with cold water and cool down in the refrigerator. It's a nice salad to serve just slightly cool or at room temperature. Cook the bacon in pan until well done and crispy and chop into 1/4 pieces. Set aside on a paper towel. Drain the bacon grease from the pan, leaving bits for flavor, and add a teaspoon of butter. Reheat the pan and cook (over medium to medium-high heat) the onion slices until brown. Set aside on paper towel to soak off excess grease. Whisk Dijon mustard and vinegar until smooth and continuing to whisk slowly drizzle in the olive oil. Season to taste with salt, pepper and a dash of cinnamon. Mix gently with potatoes and chopped parsley, bacon and sautéed onion.

Raspberry Sauce
If you take the time to make the raspberry sauce you won't regret it. But if you're short on time you can sometimes find it at a gourmet grocer or substitute a quality seedless raspberry preserve - but you'll need to add a tablespoon of lemon juice to offset that product's added sweetness. If you're feeling adventuresome, try using a fine raspberry sorbet instead, though we have not yet tried that! Let us know how it turns out.
2 pints of fresh raspberries (lightly rinsed, drained, and picked over)
1 cup of powdered sugar
1/4 Heering Cherry Liqueur, Chambord, or similar
In a saucepan, cook raspberries, powdered sugar and liqueur over medium to medium-high heat until the berries are quite broken down. Cool and break them down further in the food processor – though not enough to break down the seeds. Using a wire mesh strainer, press the sauce through with a large spoon to separate out the seeds. If you have a Chinois pestle & strainer they work great. This sauce takes a bit of doing, but is so well worth the trouble! -UL



Some Strategy

For folks who are not kitchen savvy, here are some planning suggestions that will help to schedule the tasks that make up this meal's presentation.

Two days before dinner date:
Remove the frozen pheasant from the freezer and thaw in the refrigerator overnight.

Day prior to dinner date:
1) Bone the birds using

our helpful photo tutorial for guidance. If you're an ol' pro with a boning knife, have at it whenever you're ready.

2) Shop your favorite grocery sources for the best and freshest ingredients.

3) Toast the walnuts.

4) Make the raspberry sauce. For an easy dessert, make sure you have purchased enough raspberries (and perhaps blackberries, too) to top a quality vanilla ice cream drizzled with some of the raspberry sauce.

5) Prepare the marinade and store equal halves in separate containers - one to be used as a marinade and one to be used as a salad dressing.

6) To get a jump on the potato salad prep you can chop the parsley, cook the bacon, brown the onion, and whisk together the dressing. Store those four items in the refrigerator and you'll have them ready when, closer to dinnertime, it's time to assemble that dish.

Morning of dinner date:


Chill the wine. We served this dish with a delightful Gewürztraminer made in the drier, spicier Alsacian style by Washington state's Chateau Ste. Michelle.

Afternoon of dinner date:
1) Marinate the pheasant pieces (3 to 6 hours prior to grilling - see recipe)

2) Boil the quartered potatos - see recipe.

3) Prep the remaining salad ingredients, including browning the sliced mango (though, do not put the salad dressing on the spinach until you're ready to serve)

Dinnertime:
1) Complete the potato salad

2) Grill the pheasant

3) Dress the spinach salad and arrange the remaining ingredients on each plate

4) Serve the wine

After Dinner:
For dessert, simply serve vanilla ice cream topped with the raspberry sauce and sprinkle with rinsed fresh berries.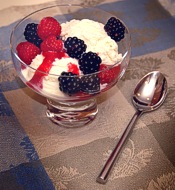 Always start with the best, freshest produce and other market items you can find. You took this pheasant with a nice shotgun, a fine dog, and quality shells, right? Do it justice.